The summer flight season brings 37 regular flight connections from BTS
24. 03. 2023 – BRATISLAVA – From Sunday, March 26, the summer flight season starts at M. R. Štefánik Airport, which brings 37 direct routes, of which 4 are new regular routes that you can easily reach from Bratislava. The flight schedule in aviation changes 2 times a year, together with the time change. The summer flight schedule will be valid until the next time change, i.e. until October 28, 2023.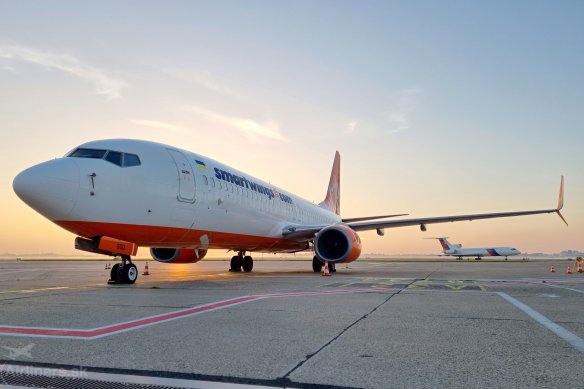 Among the novelties is also a direct route to the Baltic region, to the Lithuanian city of Kaunas, which will be operated by Ryanair, starting from March 27, 2023. The line will be serviced up to 3 times a week, on Monday, Wednesday, and Friday. Kaunas became the European Capital of Culture in 2022. Interesting is not only the historical city, but also the number of galleries, museums, and cafes. The city is also known for its local "street art" festival. Kaunas is about an hour's drive by car from the capital of Lithuania, Vilnius. A direct flight to Kaunas takes less than 2 hours.
There will be a direct connection to the holiday destination of Marsa Alam, in Egypt. In addition to the route to Hurghada, another connection will be added within the sought-after holiday destinations in this country. The flight connection will be operated by Air Cairo. The route will be launched on March 31. The resort is ideal for lovers of windsurfing and diving. The coral reefs in the area offer abundant marine life, ideal for dolphin watching. The flight to Marsa Alam takes approximately 4 hours and a half.
Another novelty is a direct flight connection to Montenegro, the metropolis of Podgorica. For travellers, it is thus possible to reach this country in less than an hour and a half directly from Bratislava. The flight connection will be operated by Air Montenegro. There will be flights to Montenegro twice a week, on Tuesday and Saturday. The route will be launched on June 17, 2023. The city of Podgorica is approximately 65 kilometres from the sea. The country is known not only for its beaches, but also interesting mountainous coves and bays that remind fjords.
Among the new destinations is also Athens, Greece, which will be operated by the highly rated airline Aegean Airlines. A direct line to Athens will be launched in September, which is an excellent opportunity for an off-season holiday. It will fly twice a week, on Monday and Thursday. The Greek metropolis is not only an excellent connection to the beautiful Greek islands, but also an excellent transfer station to other destinations in Asia or Africa.
Number of regular lines 2023 in the summer season:
37 regular routes
up to 33 destinations
up to 17 countries
There will flights to the following 17 countries:
Belgium - Brussels
Bulgaria - Bourgas, Sofia
Cyprus - Larnaca, Paphos
Montenegro - Podgorica
Egypt - Hurghada, Marsa Alam
Greek - Athens, Heraklion, Corfu, Rhodes, Thessaloniki, Zakynthos
Netherlands - Eindhoven
Croatia - Zagreb
Ireland - Dublin
Lithuania - Kaunas
Macedonia - Skopje
Malta
United Arabic Emirates - Dubai
Spain - Palma de Mallorca, Lanzarote
Italy - Alghero (Sardinia), Milan-Bergamo, Rome-Ciampino, Trapani (Sicily)
Turkey - Dalaman
Great Britain - Edinburgh, Leeds-Bradford, London, Manchester
Regular flights will be operated by 7 air carriers: Aegean Airlines, Air Cairo, Air Montenegro, Ryanair, Smartwings, Tuss Air and Wizz Air.
The largest airline company in Europe, Ryanair, will provide the most air connections during the summer flight season - up to 22 routes. It is followed by Smartwings, which will provide 8 regular connections to popular holiday destinations. Air Cairo will operate 2 routes. Aegean Airlines and Air Montenegro will provide one routes each. The new air carrier Tuss Air, a Cypriot company, starts at the Bratislava airport this summer, will operate flights to the popular Larnaca in Cyprus.
Interesting are also the charter flights that will connect Bratislava with 38 holiday destinations. For the first time, there will be new flight connection to the Egyptian resort of Marsa Matruh, which is known for its Caribbean beaches. Several holiday destinations that were not in operation last year have also been added, e.g. Dubrovnik in Croatia, Preveza in Greece and Kefalonia or Tirana in Albania.
Among the interesting charter destinations that will also fly this summer are the Cape Verde islands of Sal and Boa Vista and the unconventional destination of Dakar in Senegal.
The complete overview of scheduled routes with detailed flight dates and times can be found on the Bratislava Airport website in the section Flights - Flight Schedule SUMMER: Flight Schedule SUMMER 2023 | Bratislava Airport (BTS) - official website.
More in this section
| | | |
| --- | --- | --- |
| | 11:50 | 12:35 |
| | 12:20 | 12:37 |
| | 14:35 | 14:35 |
Tip
Use of alternative transportation to the Airport
There is a public transport bus to M. R. Štefánik Airport no. 61 in the direction from the main railway station and public transport bus no. 96 in the direction from Petržalka, Prokofievova street.
Travel with us from the Bratislava Airport and discover new destinations