BTS: 44% increase in freight and 39 353 passengers handled in March 2020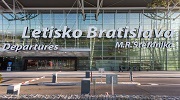 15. 04. 2020
–
March traffic -70% down as International passenger flights to and from Slovak Republic was banned as of 13th March 2020. Slovak airports remain closed for commercial passenger traffic until further notice.
The first signs of traffic deterioration related to the spread of the novel Corona virus occurred between 24th and 25th February, starting on routes between BTS and Italian destinations of Milan-Bergamo, Rome-Ciampino, Bologna and Alghero. The escalating health threat led to a ban of flights between Slovakia and Italy issued by the Central Crisis Committee of the Slovak Republic on 9th March 2020.
Full curfew on international passenger traffic to and from Slovakia followed shortly, on 13th March 2020.
In this unprecedented situation, Bratislava airport handled 39 353 passengers and 1 031 aircraft movements in the month of March. Passenger numbers have fallen by 72% y-o-y, while aircraft movements decreased by 50%.
The achieved passenger volumes bring Bratislava back to 2004 and the pre-low-cost era, when passenger numbers at BTS were comparably low.
Bratislava continued to serve chartered repatriation flights and cargo flights in the days following the closure of boarders. This lead to an eminent increase of cargo volumes, topping up previous year results by 44%. A total of 2 580 tons of freight were handled, which contrary to passenger traffic, means a return to the levels comparable with historical records from 2017. Both scheduled cargo carried by DHL and ad hoc cargo with humanitarian and healthcare contingents peaked following the outburst of the pandemic.
No scheduled flights are due to depart from Bratislava during the month of April. The airport remains closed for commercial passenger traffic until further notice, but continues to serve cargo flights, live-saving, repatriation, technical, positioning and private flights. The airport is also expected to cater for a grounded fleet of several airlines, with negotiations still ongoing.
Some of the key airlines (the EU based ones) keep bookings from Bratislava open as of early May, while the non-EU airline partners offer flights from late May-early June. The summer charter traffic is under huge stress, with too many questions regarding travel bans and hotel closures unanswered. The timeline of lifting the travel bans by the Slovak Government also remains unclear for the moment.