Zakynthos
Grécky ostrov Zakyntos sa nachádza v Iónskom mori s krásnou tyrkysovou vodou. Je ako stvorený na oddych a nabratie energie. Vychutnať si môžete povaľovanie sa na pláži, objavovanie ostrova a samozrejme skvele morské špeciality. Ponúka fascinujúci podmorský svet, ktorý láka milovníkov šnorchlovania a potápania. A ak si budete chcieť dať pauzu od pláži, môžete vyraziť do vnútrozemia za prírodou, turistikou, či navštíviť malé tradičné dedinky.
Letenky z Bratislavy
Na toto malé letisko na ostrove z mieria hlavne charterové lety. Z Bratislavského letiska sa tu môžete dostať vďaka českej leteckej spoločnosti Smartwings. Táto spoločnosť prevádzkuje lety pravidelne v pondelok, štvrtok a nedeľu. Iba asi za 3 hodiny sa dostanete na medzinárodné letisko Zakynthos Airport.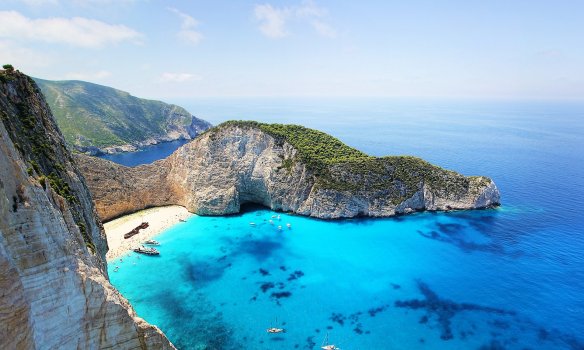 Preprava z letiska
Z letiska sa môžete dostať niekoľkými spôsobmi. Dostupné sú autobusy verejnej dopravy, ktoré spájajú autobusovú stanicu s letiskom a ich harmonogram je prispôsobený odletom a príletom v dobe, kedy je letisko otvorené. Z autobusovej stanice sa ďalej môžete dostať do rezortov na ostrove.
Ďalšími a určite pohodlnejšími spôsobmi sú taxi, požičanie si auta alebo hotelový transfer. Väčšina hotelov na ostrove ma v ponuke vlastnú prepravu z a na letisko. Je to oveľa pohodlnejšie ako sa prepravovať autobusmi a často to ponúkajú ako súčasť ubytovania. A ak plánujete výlety po ostrove, je vhodné využiť už spomínané požičanie si auta priamo na letisku.
Čo na ostrove nevynechať
Hlavným lákadlom ostrova sú jednoznačne pláže a azúrové more. Medzi najkrajšie pláže ostrova patria Navagio Beach s legendárnym vrakom lode priamo na pláži, Kalamaki Beach a Agios Nikolaos Beach so širokou ponukou vodných športov, Gerakas beach alebo Banana Beach.
V súvislosti s plážami a morom patria k najobľúbenejším miestam ostrova Modré jaskyne. Nachádzajú sa neďaleko pláže Agios Nikolaos. Objavovať ich môžete zapožičaním si vlastnej lode alebo si vybrať niektorý z organizovaných výletov.
V hlavnom meste môžete vidieť pozostatky starej benátskej pevnosti, ktorá bola zničená zemetrasením. Ďalej v meste môžete navštíviť Solomosovo námestie, pozorovať miestnu architektúru a nachádza sa tu tiež múzeum ostrova. Za návštevu tiež stojí kostol Agios Dionysios. Okrem týchto miest je tu množstvo reštaurácii a kaviarni, kde môžete nasať atmosféru mesta alebo sa skvelo najesť.