The regular flight connection Bratislava – Kaunas has started
27. 03. 2023 – BRATISLAVA – A new flight connection was added to the M. R. Štefánik Airport today, which will connect Bratislava with the second largest Lithuanian city, Kaunas. Slovaks have a unique opportunity to get to know the pleasant Baltic region. At the same time, through cooperation with the Bratislava Tourist Board (BTB), the attractions of our capital will be promoted in Lithuania. Bratislava thus gains an opportunity to reach more foreign visitors.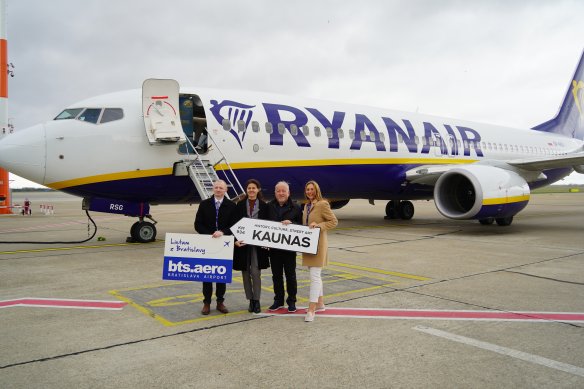 The inauguration of the first flight from the Lithuanian Kaunas to Bratislava took place in the presence of representatives of the Bratislava Tourist Board and the M. R. Štefanik Airport management, who welcomed the first passengers from Kaunas directly at the Bratislava Airport. Upon arrival, they could taste typical sweet pastries from Bratislava – "Bratislava bagel" and be inspired by the offered promotional materials and find out more about the program in the capital city of Slovakia. Before the summer season starts, BTB is planning several marketing activities with the aim of attracting visitors from Lithuania.
The direct line from Bratislava to the Lithuanian city of Kaunas is operated by airline company Ryanair. The line is serviced up to 3 times a week, on Monday, Wednesday, and Friday. Kaunas became the European Capital of Culture this year. Interesting is not only the historical city, but also the number of galleries, museums, and cafes. The city is also known for its local "street art" festival. Kaunas is about an hour's drive by car from the capital of Lithuania, Vilnius. A direct flight to Kaunas takes less than 2 hours. Tickets can be purchased on the website: Official Ryanair website | Cheap flights | Exclusive deals.
More in this section
| | | |
| --- | --- | --- |
| | 14:35 | 14:35 |
| | 14:50 | 14:50 |
| | 17:25 | 17:25 |
Tip
Use of alternative transportation to the Airport
There is a public transport bus to M. R. Štefánik Airport no. 61 in the direction from the main railway station and public transport bus no. 96 in the direction from Petržalka, Prokofievova street.
Travel with us from the Bratislava Airport and discover new destinations