BTS handled last year the biggest number of passengers in history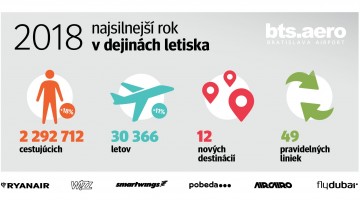 17. 01. 2019
–
Bratislava M. R. Štefánik Airport handled the biggest annual volume of passengers in its history! The airport handled the total of 2 292 712 passengers on arrival and departure in 2018, which is the highest annual number of passengers since the establishment of the airport in 1951, it means in 67 years!
At the same time, this means an increase of 18-percent compared to the results from 2017.
The airport beat its previous record achieved in 2008, when 2 218 545 passengers were handled.
"First and foremost, we thank all the passenger, who chose to fly to or from Bratislava last year. Thanks to them, we at the airport had a year that enters the chronicles of Airport Bratislava. In its whole history, the airport reached the 2-million-passenger threshold only twice before – in years 2007 and 2008. And now, in 2018, not only that we achieved this threshold again, but with almost 2,3-million passengers handled, we added a significant surplus to it, "says the Chairman of the Board of Bratislava M. R. Štefanik Airport, Jozef Pojedinec.
There are several records that the airport achieved in 2018:
The longest unbroken series of monthly records in passenger numbers achieved in a row – absolutely the highest numbers of passengers in the months of June, July, August, September and October since the beginning of evidenced recordings
The highest ever number of passengers handled in single month (almost 350-thousand passengers in the month of July)
The strongest vacation season in the history (more than 1 million vacationers between June and September on both the scheduled and the charter flights)
Beating the 300-thousand-passengers per month threshold twice in the same year (in July and August, never achieved twice in the same year before)
the largest network of connections – 49 scheduled routes in summer season
record-breaking 12 new scheduled routes launched throughout one year – the most in the recent history
absolutely the highest ever number of passengers handled in one single year.
In year 2018, 30 366 landings and take-offs took place at Bratislava Airport, which is an 11-percent increase compared to the previous year.
Most passengers travelled from Bratislava on scheduled routes to London (Stansted and Luton), Dublin, Moscow, Milan, Skopje or back in 2018. During the summer season, the most passengers took charter flights to Antalya in Turkey, Hurghada in Egypt, Thessaloniki in Greece, Monastir in Tunisia and Bourgas in Bulgaria. The largest carrier at Bratislava remains Ryanair, followed by WizzAir, Smartwings, Pobeda, AirCairo and flydubai.