Bratislava Airport Winter Flight Schedule 2019/2020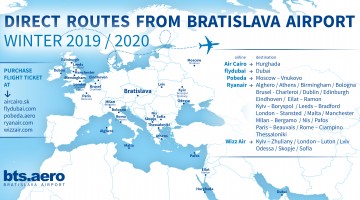 25. 10. 2019
–
New route to Odessa, Ukraine, Italian Alghero in Sardinia, Dutch Eindhoven, daily flights to Moscow and again Eilat-Ramon in Israel. These are the news of the winter timetable, which will start at Bratislava Airport with the change of time, from 27 October.
From the end of October 2019 to March 2020, 29 regular flights to 27 destinations operates from/to Bratislava.
New route to Odessa, Ukraine
A new route to Odessa, Ukraine, will be operated by Wizz Air twice a week from 3 November, flights to the Black Sea from Bratislava will operate on Wednesdays and Sundays.
Flights to Alghero in Sardinia also in winter
In winter, Ryanair will also provide a regular service from Bratislava to Alghero, Sardinia. The Italian Alghero has been connecting with Bratislava by air only in the summer. This year Ryanair will offer flights in winter, with a frequency of 2 times a week. Flights between Bratislava and Alghero operates on Tuesdays and Saturdays.
Route to Eindhoven, Holland
Regular flights from Bratislava to Eindhoven in the Netherlands will be available this year, even in winter. The route to the Netherlands was renewed by Ryanair in the summer and will continue twice a week also in winter.
Direct flights to Israel
In the winter schedule, Ryanair will also offer direct flights to Israel - to Eilat-Ramon, starting from Sunday, 27 October.
Flights to Moscow every day
Among the most popular scheduled flights from Bratislava after flights to London and Dublin this year, flights to Kiev and Moscow are popular also. Pobeda has increased the number of flights from Bratislava to the capital of Russia, Moscow, to 7 times a week.
Charter flights to Egypt, Oman, Gambia and Dubai
Air Cairo will operate flights to Hurghada in Egypt until November. Travel agencies have also planned a series of holiday charter flights to Salalah in Oman, with departure from Bratislava every Saturday. The first flight in the winter season will fly with holidaymakers to Oman on Saturday 26 October. Exotic destination in the offer of travel agencies departing from Bratislava will be flights to African Gambia this winter. From February 2020, holiday charter flights to the capital of Banjul will operate once a week, every Friday, operated by Smartwings. Individual holidaymakers can also choose direct scheduled flights to Dubai, United Arab Emirates with flydubai. In addition, thanks to cooperation with Emirates, it is possible to transfer in Dubai not only to another flydubai routes but also to Emirates flights. The most attractive destinations with departure from Bratislava (transfer in Dubai) include Bangkok in Thailand, Maldives, Sri Lanka and Zanzibar.
Connecting flights via Milan to Porto, Valencia, Catania and Cagliari
Ryanair connects Bratislava with four new destinations via transfer in Milan. From Bratislava (transfer in Milan), Ryanair connects Bratislava with the Spanish cities of Porto and Valencia and with the Italian cities of Catania and Cagliari. Moreover, the passenger's baggage travels to the final destination.
4,000 flights and 5 scheduled carriers
The winter timetable at Bratislava Airport will start on Sunday, October 27, 2019 and will run until March 28, 2020. During it, almost 4,000 scheduled flights are scheduled. They will be provided by Ryanair, Wizz Air, Pobeda, flydubai and Air Cairo (flights to Hurghada until November). Pobeda operates flights to Moscow and flydubai to Dubai. A total of 6 scheduled flights are provided by Wizz Air, of which there are 3 flights to cities in Ukraine - Kiev-Zhulyany, Lviv and Odessa. In addition, Wizz Air flies to Skopje in Northern Macedonia, Sofia in Bulgaria and London-Luton. Ryanair offers 20 regular flights.
Regular flights Winter (27. 10. 2019 - 28. 3. 2020)
Air carrier Destination Country Frequency
Air Cairo Hurghada Egypt once a week (until November)
flydubai Dubai United Arab Emirates 3 times a week
Pobeda Moscow-Vnukovo Russia 7 times a week
Wizz Air Skopje Northern Macedonia 3 x, respectively 4 times a week
Wizz Air Kiev-Zhulyany Ukraine 4 times a week
Wizz Air Lviv Ukraine 2 x respectively. 3 times a week
Wizz Air Sofia Bulgaria 3 x, respectively 4 times a week
Wizz Air London-Luton United Kingdom 4 x, respectively 5 times a week
Wizz Air Odessa Ukraine 2 times a week
Ryanair Athens Greece 2 times a week
Ryanair Alghero Italy 2 times a week
Ryanair Bologna Italy 2 times a week
Ryanair Birmingham United Kingdom 3 times a week
Ryanair Brussels-Charleroi Belgium 3 times a week
Ryanair Dublin Ireland 6 times a week
Ryanair Edinburgh United Kingdom 2 times a week
Ryanair Eindhoven Netherlands 2 times a week
Ryanair Eilat-Ramon Israel 2 times a week
Ryanair Kiev-Boryspil Ukraine 3 times a week
Ryanair Leeds-Bradford United Kingdom 2 times a week
Ryanair London-Stansted United Kingdom 12 times a week
Ryanair Malta Malta 2 times a week
Ryanair Manchester United Kingdom 3 times a week
Ryanair Milan-Bergamo Italy 4 times a week
Ryanair Nis Serbia 2 times a week
Ryanair Paphos Cyprus 2 times a week
Ryanair Paris-Beauvais France 2 times a week
Ryanair Rome-Ciampino Italy 3 times a week
Ryanair Thessaloniki Greece 2 times a week