Bratislava Airport ahead of major runway reconstruction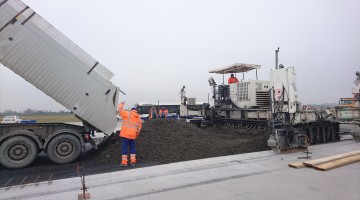 28. 01. 2020 – Bratislava Airport will run its annual round of runway- and taxiway- facelifts in early spring, which will require a series of night-operations restrictions mid-April and at the end of May. This year however, there are works planned in the runways intersection, which will see the airport completely closed for almost two weeks in late April 2020.
Bratislava Airport operates a system of two intersecting runways, the 13-31 being its main runway (3 190 m in length, 45 m in width, CAT III A ICAO standards equipment). The 04-22 is the secondary runway 2 900 m long, 60 m in wide, with CAT I ICAO lighting and navigation system.
The original runways were built between 1947 and 1951, both undergoing a major upgrade and prolongation in the 80s of 20th century.
Depending on weather conditions and intensity of required winter maintenance, smaller or larger facelifts are made every year after winter season to preserve the longevity and endurance of all surfaces.
This year, on the top of this regular annual maintenance, the airport will undertake a complex intervention in its runways intersection. The technology will not allow to run the works under full operation, nor will the night-time closure suffice. The remaining part of the runway after the intersection is not sufficient for standard operation and to that end the airport will need to remain fully closed during 11 peak days of the project.
Bratislava Airport has notified the air carriers well in advance of the planned restrictions. The timeframe of the whole project is the following:
13th April until 20th April, the airport will be closed for all operation in night hours, daily between 21:00 UTC till 03:00 UTC.
Starting 21st April at 08:00 UTC/10:00 LT the airport will close completely until 01st May 16:00 UTC/18:00 LT.
Then again between 27th May till 31st May the airport will be closed for all operation in night hours, daily between 21:00 UTC till 03:00 UTC (23:00 - 05:00 +1 LT).
For more details please visit the Slot Coordination section at our web site https://www.bts.aero/en/b2b/slot-coordination/ or see the official announcement here: "/content/86/letter_eng.pdf . The respective NOTAM was published as well.
More in this section
20:45
20:45
28. 09. 2022
00:30
00:30
04:10
04:10
Tip
Use of alternative transportation to the Airport
There is a public transport bus to M. R. Štefánik Airport no. 61 in the direction from the main railway station and public transport bus no. 96 in the direction from Petržalka, Prokofievova street.
Travel with us from the Bratislava Airport and discover new destinations