AEGEAN, the airline that knows Greece best, launches direct flights to Athens.
14. 09. 2023 – BRATISLAVA - Another direct flight connection was added at M. R. Štefánik Airport last night, this time directly to the Greek capital, Athens. AEGEAN a member of Star Alliance, with the well awarded loyalty scheme, just announced a new regular service. The Greek airline is considered one of the best regional carriers and is highly praised for its air service, which includes the option to purchase a business class ticket.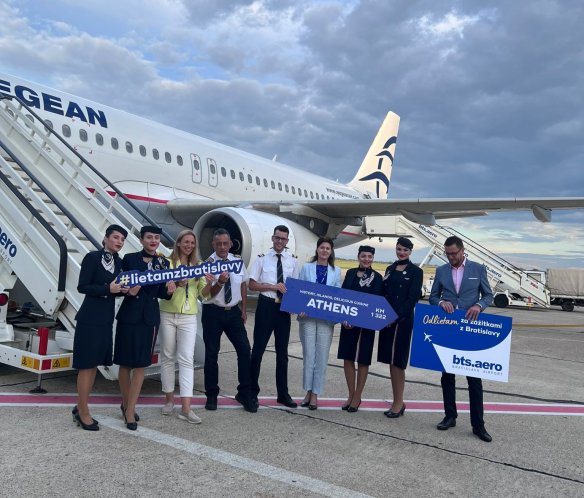 The direct service to the Greek capital will operate 2 times a week, on Mondays and Thursdays with the new and modern Airbus A320 neo aircraft, all equipped with wifi connection and business class service, with capacity of 180 passengers.
According to the Chairman of the Board of Directors and CEO of M. R. Štefánik Airport, Ing Dušan Keketi, this is a success: "As the management of the airport, we very much appreciate this air connection to the Greek capital. It is the result of our efforts to bring passengers the possibility of transport by a quality airline. Athens is also an excellent gateway to the Greek islands and other destinations in Africa and Asia.
"We're very happy for the commencement of our new direct flights between Athens International Airport and Bratislava Airport in autumn 2023 and by thus connecting Bratislava and Slovakia with the Greek capital of Athens, the domestic mainland and island destinations in Greece as well as further reach to multiple points in our European and Middle East network. AEGEAN is proud to connect Slovakia and Greece with this new scheduled service and be able to offer a unique travel experience to all those traveling with us", said Mr. Ioannis Rasoglou, AEGEAN Network Planning and Airline Partnerships Director.
The flight to Athens takes approximately 2 hours. On board service includes food and drink or wifi signal. Tickets can be purchased at: Letisko Bratislava (BTS) - oficiálna stránka or www.aegeanair.com.
About AEGEAN
AEGEAN and its subsidiary Olympic Air carried 12.5 million passengers in 2022 and will offer a total of 18 million seats in 2023. The route schedule for the year 2023 covers a network of 165 destinations (30 domestic and 135 international) in 46 countries from the company's 10 bases in Greece and abroad, with a fleet of 76 aircrafts including the brand-new Airbus A320 and A321 neo. AEGEAN is a member of STAR ALLIANCE, the largest global airline alliance and was awarded, for the 12th consecutive year and 13th time in the last 14 years, as the best regional airline in Europe by the Skytrax World Airline Awards.
More in this section
| | | |
| --- | --- | --- |
| | 18:25 | 17:33 |
| | 18:40 | 18:20 |
| | 19:05 | 18:40 |
| | | |
| --- | --- | --- |
| | 16:55 | 17:23 |
| | 17:30 | 17:35 |
| | 19:05 | 19:05 |
Tip
Use of alternative transportation to the Airport
There is a public transport bus to M. R. Štefánik Airport no. 61 in the direction from the main railway station.
Travel with us from the Bratislava Airport and discover new destinations