Public zone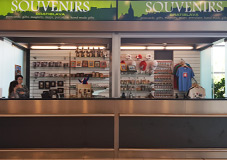 Souvenirs Bratislava
Souvenirs offers to visitors a varity of Bratislava and Slovak souvenirs. You will find here t-shirts, postcards, magnets, maps, porcelain products, hand-made gift items, caps, mugs, keychains, paintings and much more with a motive of Slovak capital city.
7.00 – 19.00
departure hall, ground floor
souvenirs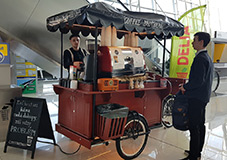 Coffee Brothers
Coffee Brothers offers freshly ground coffee prepared from 100% Middle Eastern Arabian roasted in 7 days. It also offers high quality cello teas, exclusive hot chocolate, chai latte or cocoa, espresso, espresso macchiatto, espresso doppio, cappuccino, flat white, caffe latte, brothers americano or babyccino in sizes ranging from extra small coffee to large coffee.
7.00 – 19.00
Arrival hall, ground floor
sofee/drinks
Filip Demeter
0910 383 733
Food market Delia
Delia Foods offer products for immediate consumption - fresh bakery products, desserts, baguettes and sandwiches, fresh juice, coffe to go as well as a variety of low-priced refreshment menus. Slovakian farm products such as cheese, yoghurt, pasta can be found in the range. There are also regular food goods - beverages, confectionery, dairy or meat products, and basic drugstore.
5:00 – 23:00
Arrival hall, ground floor
groceries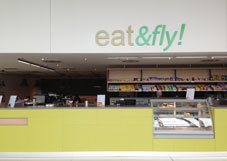 eat&fly!
eat&fly! is a new restaurant at Bratislava Airport. It offers standard restaurant services combined with a fast food and take away coffee in a pleasant environment. The restaurant is situated on the ground floor of the departures terminal and is opened 24/7.
nonstop
departures terminal, ground floor
restaurant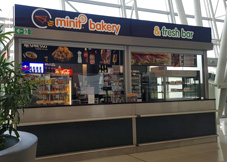 Airport Snack
If you are feeling hungry or peckish, you will definitely have no trouble choose something from the "fragrant" offer of the ever-fresh products at Airport Snack.
2 hours before the first flight until the last flight of the day
departures terminal, ground floor
drinks / snacks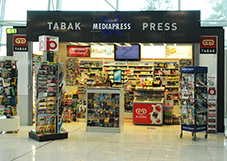 Mediapress
Selection of daily newspapers, magazines, stamps and postcards, public transport tickets, books, tobacco products, sweets and non-alcoholic drinks.
7:00 - 19:00
departures terminal, ground floor
newspapers and magazines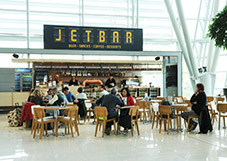 Jet Bar
Jet Bar with great location in the departure terminal directly under the historic plane Caproni Ca-33 has been offering traditional soft drinks, coffee, soft and alcoholic drinks, but also offers the delicious cakes, pies, draft beer, flavored soft drinks and ice cream.
2 hours before the first flight until the last flight of the day
departures terminal, ground floor
drinks / snacks
Michal Laššák
+421 948 381 685