Kos
Ostrov Kos je grécky ostrov, ktorý patrí do súostrovia Dodekany. Nachádza sa blízko tureckého pobrežia a obmýva ho Egejské more. Vo svete je známy hlavne kvôli tomu, že bol domovo slávneho Hippokrata. Rozlohovo patrí medzi menšie ostrovy ale to mu na atraktivite neuberá. Nachádza sa tu množstvo historických pamiatok a rovinaté prostredie je skvelé na pešie alebo cyklistické túry.
Letenky z Bratislavy
Z Bratislavy sa na ostrov Kos dostanete pohodlne vďaka spoločnosti Smartwings. Priletíte na medzinárodné letisko Kos Airport, ktoré leží v strede ostrova a od mesta je vzdialené asi iba 24 kilometrov. Let trvá necelé dve a pol hodiny.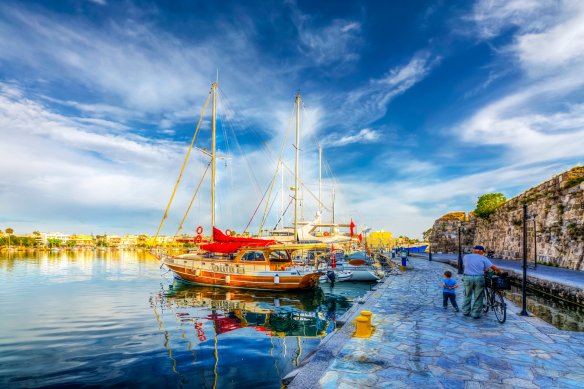 Preprava z letiska
Z letiska sa môžete dostať verejnou dopravou a konkrétne autobusom, ktorá má zastávku iba 50 metrov od budovy terminálu. Autobus vás dopraví do mesta Kos ale aj iných miest na ostrove. Cesta z letiska zaberie asi 35 minút a niektoré menšie mesta sa nachádzajú ešte bližšie pri letisku.
Ak ale preferujete pohodlnejší spôsob dopravy, môžete si objednať taxi alebo skúsiť osloviť hotel, či neposkytuje aj transfer z letiska a na letisko. Ak vás hotel alebo rezort nie je priamo v meste, bude to určite rozumnejšia voľba.
Čo na Kose nevynechať
História hlavného mesta Kos je naozaj bohatá a za jeho popularitu sa zaslúžil už spomínaný Hippokrates. Založil tu nemocnicu, inak nazývanú ako Asklépion, a na námestí platanov nájdete jeden z najstarších stromov v Európe tiež pomenovaný po ňom – Hippokratov platan. Pod týmto stromom údajne vyučoval svojich žiakov.
Ďalšími zaujímavým historickým miestom je Agora, ktorá bola kedysi centrom mesta a je možné tu pozorovať pozostatky napríklad bývalej Afroditinej svätyne. Mesto ale aj celý ostrov je podobnými pamiatkami posiaty a môžete ich objavovať počas celého pobytu.
História ale nie je všetko, čo tento ostrov ponúka. Krásna príroda je skvelou príležitosťou na turistiku alebo prechádzku po prírodnej rezervácii Palaka, ktorá je plná pávov. Po vyčerpávajúcom dni môžete zregenerovať v morských termálnych prameňoch alebo na jednej z mnohých pláži pozdĺž ostrova.