Wizz Air launched new Bratislava - Skopje route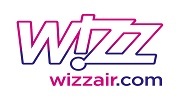 28. 03. 2016
–
A new destination to and from Bratislava M. R. Stefanik Airport has been launched. Wizz Air, the largest low-cost airline in Central and Eastern Europe, launched a new route from Bratislava to Skopje in Macedonia as of March 28, 2016. Bratislava Airport welcomed the very first Wizz flight on Eastern Monday with traditional Slovak Eastern customs.
The first Wizz Airbus A320 arrival with capacity of 180 seats was welcomed by the colourful arch of triumph made by Bratislava Airport Fire Department. It was symbol of "Oblievacka – water pouring" which is a typical Slovak Easter Monday tradition. On this day men visit their female relatives and pour water over them. According to another Slovak Easter Monday custom, Bratislava Airport representatives – Ivan Trhlik, CEO, and Stanislav Bujnovsky, Director Aviation, together with Wizz Air's Tamara Mshvenieradze whipped the aircraft with whips made of braided willow rods, cutted the ribbon and the Eastern cake at the end.
Every passenger both on departure and arrival from/to Bratislava – Skopje received the certificate issued by Bratislava Airport on the occasion of the first Wizz Air flight and Eastern chocolates as well.
Departure from Bratislava to Skopje is every Monday and Friday at 21.15 h., arrival from Skopje to Bratislava at 20.45 h according to summer flight schedule – valid until the end of October. In winter flight schedule starting from November till the end of March 2017 are departures from Bratislava to Skopje scheduled as follows – every Thursday and Sunday at 15.30 h., arrivals from Skopje at 15.00 h. Book tickets at wizzair.com. Fares starts from 19,99 €.
"We are delighted with our concluded agreement with Wizz Air. Thanks to direct connection from Bratislava to Skopje, Bratislava Airport is widening its network for its passengers . We are confident, that our mutual cooperation with Wizz Air will expand in near future and Bratislava Airport will be able to offer more destinations for its passengers with Wizz Air, " said Bratislava Airport CEO Ivan Trhlik.
Tamara Mshvenieradze, Wizz Air's Corporate Communications Manager said: "We are delighted to be here today to celebrate our very first Bratislava WIZZ flight. Coincidentally it starts on a beautiful Easter Monday and we hope that our two weekly services to Skopje on Mondays and Fridays will be a perfect choice for our Slovakian customers for a short spring weekend break to enjoy the gastronomic delights in the capital or a longer discovery trip to explore all the hidden gems of Macedonia including the world-renowned lake Ohrid. Today our flight from Skopje arrived with 164 passengers on board. We look forward to a long and fruitful cooperation with Bratislava Airport and hope to carry many happy customers on board."
NEW WIZZ AIR BRATISLAVA ROUTE:
| | | | |
| --- | --- | --- | --- |
| Destination | Days of operation | Start | Fares from* |
| Skopje | Monday, Friday | March 28, 2016 | 19,99 EUR |
About Wizz Air
Wizz Air is the largest low-cost airline in Central and Eastern Europe, operates a fleet of 67 Airbus A320 and Airbus A321 aircraft, and offers more than 420 routes from 24 bases, connecting 119 destinations across 38 countries. At Wizz Air, a team of approximately 2,600 aviation professionals delivers superior service and very low ticket prices making Wizz Air the preferred choice of 19.2 million passengers in 2015. Wizz Air is listed on the London Stock Exchange under the ticker WIZZ and is included in the FTSE 250 and FTSE All-Share Indices. The company was recently named 2016 Value Airline of the Year by the editors of Air Transport World, one of the leading airline trade magazines.
* one-way including taxes and non-optional charges