Two new Wizz routes launched from BTS to Warsaw and Sofia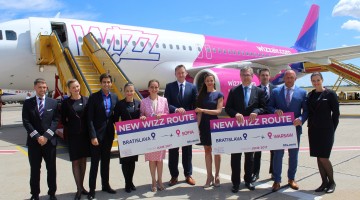 30. 06. 2017
–
Wizz Air started today two new routes from Bratislava to Sofia, in Bulgaria and to Warsaw in Poland. With a convenient schedule of four weekly frequencies, passengers can plan their holiday or a weekend getaway to these great destinations all year round with fares from as low as EUR 9.99*.
In the first six months of 2017, over 50,000 passengers have enjoyed WIZZ low fares and excellent on board service on Bratislava routes, that supported almost 40 on-site jobs** in aviation and tourism industries throughout the region. In March 2016, Wizz Air started operations from Bratislava International Airport, launching its first flight to Skopje. In just one year, WIZZ expanded its low-fare network from Bratislava to 6 routes in 6 countries, underlining its commitment to offer quality service and truly affordable fares to passengers.
Since its first flight from Slovakia in 2013, the airline has continuously invested in its ever-growing network from Slovakia, increasing its total seat capacity in 2017 with more than 60%, compared to 2016, offering this year over half a million seats on sale on 11 routes available from 3 Slovakian airports.
During 2016, Wizz Air had a 25% growth year over year, carrying over 300,000 passengers to and from the three Slovakian airports: Bratislava, Kosice and Poprad, which supported nearly 230 on-site jobs** in aviation and tourism industries throughout the country.
WIZZ AIR'S NEWEST ROUTES FROM BRATISLAVA
| | | | |
| --- | --- | --- | --- |
| Destination | Days | Starts | Fares from* |
| Sofia | Monday, Wednesday, Friday, Sunday | 30 June 2017 | EUR 14.99 |
| Warsaw | Monday, Wednesday, Friday, Sunday | 30 June 2017 | EUR 9.99 |
Speaking in Bratislava, Sorina Ratz, Communications Manager at Wizz Air, said:
"Today we have further expanded our low fare network available from Bratislava Airport to 6 routes. The new connections to Sofia and Warsaw, with a convenient schedule of four weekly flights, will be a great destination for both our leisure and business travelers, while will further stimulate bi-direction tourism and hospitality industries. We are looking forward to our fruitful collaboration with Bratislava International Airport and we are welcoming all passengers on board to discover Europe on our flights, to enjoy WIZZ's lowest fares, easy booking system and excellent onboard service!"
Jozef Pojedinec, Bratislava Airport CEO said celebrating inaugural flight:
"To new routes to Cluj-Napoca (Romania) and Tuzla (Bosnia) launched in March, we are today adding together with Wizz Air 2 new routes to Warsaw and Sofia from Bratislava. In the same time, more frequencies are available to Kyiv (Ukraine) and Skopje (Macedonia) which increased from twice weekly to 4 times weekly as of summer. Wizz flights from Bratislava are popular and we are happy we can offer to Slovak and other passengers now 6 scheduled routes total. We hope for future growth at BTS thanks to cooperation with Wizz Air which is our fair partner."