The 3rd best Bratislava Airport traffic result in history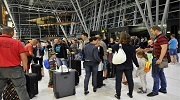 31. 01. 2018
–
Bratislava Airport recorded in 2017 the 3rd best traffic result in its own history and the best result in 9 years time. BTS Airport handled 1.942.069 last year, an increase plus 11% in comparison to the last year. A historical record has been recorded in cargo transportation.
"We almost reached 2m milestone in 2017. We have recorded the very best summer charter season in whole Bratislava Airport history, an increase by 35%. The launch of five new routes and highest load factor carried 3% increase in scheduled transport as well," said Bratislava Airport CEO Jozef Pojedinec.
"We have recorded the historical record in cargo transportation. In 2017 we handled 26 246 tons of cargo – the highest number of freight since the start of the Airport," said Jozef Pojedinec.
Bratislava Airport welcomed total of 27.322 flights. The number of arrivals and departures increased by 6% in comparison to the last year.
The most popular destinations in 2017 from/to Bratislava Airport were London, Dublin, Antalya, Milan-Bergamo and Moscow.
The biggest air carrier – Ryanair – carried over 1m passengers yearly to/from Bratislava. When consider passenger numbers, the biggest air carriers in Bratislava Airport were beside Ryanair also Travel Service, Wizz Air, Pobeda, flydubai, Czech Airlines and Air Cairo.