Pobeda Airlines summer sale for Bratislava – Moscow route is now on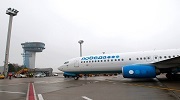 23. 02. 2016
–
BRATISLAVA – Russian low cost airline Pobeda started spring and summer season flight ticket sale on its website www.pobeda.aero/en as of today, prices starting from 39 €, 49 €, 59 € etc. one-way. Starting December 19th 2015, Bratislava Airport is having daily flight connection with Russian federation. In a period starting May 29th till September 18th there is 3x wkly service.
Pobeda operates from Bratislava M.R.Stefanik Airport to Moscow-Vnukovo airport. Company's fleet is formed by modern Boeing 737-800 Next-Generation (NG) with capacity 189 seats.
Departure from Moscow Vnukovo Airport to Bratislava: 13.05, arrival at 13.45 – summer 15.10.
Departure from from Bratislava Airport to Moscow Vnukovo: 14.15, arrival at 18.50 – summer 15.40.
Each passenger is permitted to carry free of charge 10 kgs checked-in baggage and free of charge:
• Personal items in the cabin: ladies purse or men's handbag, reading material, umbrella (except sun umbrella), walking stick, bouquet of flowers, coat, photo case, laptop, garment bag, food for the duration of the flight, small crib.
• Foldable baby carriage which is to be carried in the hold.
Please note the Duty Free bags will be charged according to the effective fees and taxes.
Passengers may purchase 10 kg carry on bag or checked baggage for a fee.