New Wizz Air connection from Bratislava to Sofia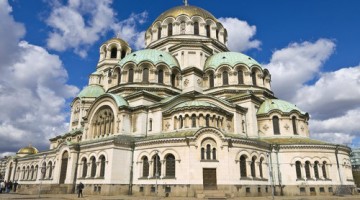 10. 03. 2017
–
Wizz Air, the largest low-cost airline in Central and Eastern Europe, celebrated today one year of successful operations at Bratislava International Airport and announced a new low-fare route from Bratislava to Sofia. The newest WIZZ service will commence on 30 June and will be operated four times a week, on Mondays, Wednesdays, Fridays and Sundays.
Passengers planning their holiday or a weekend getaway to Bulgaria's capital, can already book their tickets on wizzair.com from only EUR 9.99*.
Sofia, the dynamic European capital it's becoming a very attractive destination for leisure and business travelers, as the metropolitan area has a unique and beautiful scenery. The various cultural and leisure places of interest, such as the Vitosha Mountain, a developed ski-resort in the winter and trekking area in the summer, make Bulgaria's capital an exciting holiday destination all year round.
In March 2016, Wizz Air started operations from Bratislava International Airport, launching its first flight to Skopje. In just one year, WIZZ expanded its low-fare network from Bratislava to 6 routes in 6 countries, underlining its commitment to offer quality service and truly affordable fares to passengers. In addition of today's inaugural flight from Bratislava to Cluj-Napoca, in 2017 three new routes will commence from Bratislava to Tuzla, Warsaw and Sofia, responding to the growing demand for WIZZ services by Slovakian consumers.
Wizz Air started its operations in Slovakia from Kosice in 2013 and since then has continuously invested in its ever-growing network. In 2015, Kosice airport became the 20th WIZZ base with one based new Airbus A320 aircraft and 42 local crew employees. During 2016 Wizz Air had a 25% growth year over year, carrying over 300,000 passengers to and from the three Slovakian airports: Bratislava, Kosice and Poprad, which supported nearly 230 on-site jobs** in aviation and tourism industries. Wizz Air is currently offering a total of 10 low-fare services to 9 destinations in 7 countries from three Slovakian airports.
WIZZ AIR'S NEWEST ROUTE FROM BRATISLAVA
| | | | |
| --- | --- | --- | --- |
| Destination | Days | Starts | Fares from* |
| Sofia | Monday, Friday, Wednesday, Sunday | 30 June 2017 | EUR 9.99 |
Speaking at a press conference in Bratislava, Sorina Ratz, Communications Manager at Wizz Air, said: "We are thrilled to celebrate a year of successful operations at Bratislava International Airport and bring more great news for our Slovakian customers. Today we are launching the first WIZZ flight from Bratislava to Cluj-Napoca along with the announcement of our sixth low-fare route from Bratislava to Sofia. From 30 June, our business and leisure passengers can explore Bulgaria's capital with WIZZ's newest service and a convenient schedule of four flights per week and fares from only EUR 9.99*. Always looking to bring new travel opportunities to our customers, in one year Wizz Air expanded it's low-fare network from Bratislava to 6 routes, including the routes to Tuzla, Warsaw and Sofia which will commence until June. We stay dedicated to Slovakia and our professional crew is looking forward to seeing many happy passengers on board of our modern fleet."
"The last year commitment with Wizz Air already shows what a good move for Bratislava Airport it was. With a total of 6 direct routes, Wizz becomes this year 2nd biggest air carrier in Bratislava. Thanks to new direct route to Sofia we can offer not only to Slovak customers much easier air connection with Bulgarian capital city," said Ivan Trhlík, Bratislava Airport CEO.