New smart kiosks for tourists arriving at Bratislava Airport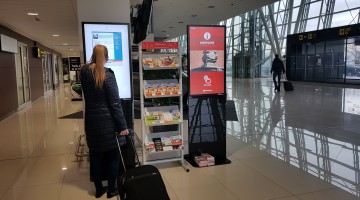 06. 02. 2018
–
There is a new "smart "addition at Bratislava Airport helping tourist ease their initial orientation around the capital city. Thanks to the new touchscreen information kiosks the visitors to the Slovak metropole can search for the key information just upon their touch-down.
The successful cooperation between BTS and the capital city´s tourism organization The Bratislava Tourist Board (BTB) brought another fruitful project to live. Two new digital panels were installed in the arrivals hall provide practical and useful information about the destination and present the most popular and most recent attractions of the city of Bratislava.
"We fully understand the importance of the first impression that the visitor gets upon his arrival to the destination. That is why we are delighted that thanks to these touchscreen panels the visitor can search for the bus connection, taxi service contacts, map of the city or other important information just upon their arrival, which will ease their first moments spent in our city, "said the Chairman of the Board of the BTB Ms Alžbeta Melicharová.
The simple intuitive menu divides all information into basic categories. The content is interconnected with www.visitbratislava.com landing page and is constantly updated therethrough. Apart from practical information on transport connections, taxi services, car rentals, healthcare centres or baggage rooms, the full tourism offer stands at hand. The calendar of cultural events, choice of restaurants and bars, top activities and events are all listed. The visit in Bratislava becomes more beneficial once you hold a tourist benefit card Bratislava Card – City & Region. All the information about the card and its benefits are also available in the new interactive kiosks.
"The touchscreen kiosks are situated in the public area of the arrivals hall. They are easily accessible and visible to all passengers upon their arrival, just as to other visitors of the airport. Apart from the information about the city of Bratislava, they contain the information on the network of regular connections from Bratislava Airport, "added the spokeswoman of M. R. Stefanik Airport Ms Veronika Sevcikova.
BTS currently offers connections to 26 scheduled destinations with up to 49 destinations being served in the upcoming summer season.