Interchange opens a new foreign exchange office at Bratislava Airport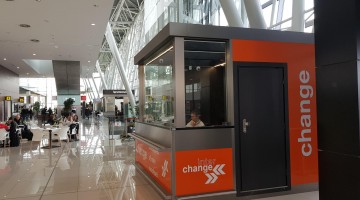 03. 04. 2018
–
The Interchange Group ('Interchange'), one of the leading foreign exchange providers in the world, is delighted to announce that it has opened a new foreign exchange office in the Bratislava Airport, located in the arrivals hall.
The new foreign exchange office will be opened daily and will offer the exchange of 17 different currencies into Euro, as well as tax free refunds, and, soon, Western Union money transfer services. This will be the first foreign exchange office to open in the Bratislava Airport. Interchange already installed two ATM machines in February, one in the baggage claims area and one in the arrivals hall. Just now it is possible to withdraw Euros and in the future the ATMs will offer other foreign currencies.
Talking about the company's expansion into Slovakia, Marek Nácovský, the Managing Director of the neighbouring Czech operation said:
"We are very excited about entering the Slovak market, and by establishing a new partnership with Bratislava Airport we will be able to offer our services at an increasingly popular international airport, which offers us great potential for further growth. We are delighted about our new partnership and being able to add Bratislava Airport to our existing successful airport operations."
Jozef Pojedinec, the CEO of Bratislava Airport, added:
"We are delighted to welcome one of the world's leaders in currency exchange at Bratislava Airport. Arriving passengers have been missing this important service at the airport, and thanks to the new cooperation with Interchange we are now able to offer customers this traditional and much needed airport service."
Interchange has been operating on the Central European market for more than a quarter of a century, continuously expanding its network of exchange offices throughout the region and elsewhere in the world. In Central Europe, the company already serves passengers at six major international airports: Vienna, Prague and Budapest and in three Polish airports: Gdansk, Katowice and Wroclaw. Interchange was approached to open the new exchange office by Bratislava airport, based on its positive references from the Vienna airport operators.
About Interchange
The Interchange Group is one of the world's leaders in currency exchange and money transfer for both private and corporate customers.
Established in 1990, the Group operates more than 140 foreign exchange branches, including 40 in the Czech Republic, and over 1200 Western Union agencies in 14 countries on four continents.
www.interchange.eu