From Bratislava Airport to 26 destinations in 18 countries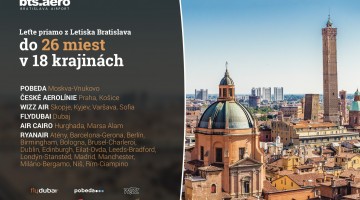 23. 10. 2017
–
New direct route to Bologna, Italy and flights during winter to Hurghada and Marsa Alam. That brings a new winter flight schedule for M. R. Stefanik Airport in Bratislava which is valid from October 29, 2017. Passengers are welcomed to use 26 direct routes to 18 destinations which is a record number in the last 9 years.
Ryanair launches new route from Bratislava to Bologna, Italy as of October 29 with 2 weekly frequency. Route to Eilat-Ovda is offered by Ryanair again in W17 as well as new Wizz routes to Warsaw and Sofia which Wizz launched in June.
Scheduled charter flights to Hurghada and Marsa Alam are operated by Air Cairo 1 x weekly.
"With the number of 26 regular flights during the winter season, we managed to reach the 2008 historical record, during which the same number of routes was offered, the highest in the history of the airport. Travelers from Bratislava will be pleased at the end of the year with a new line to Bologna and new routes can be enjoyed in 2018 as well. In the spring, new Ryanair routes from Bratislava to Malta, Bourgas, Thessaloniki and Paphos to Cyprus will be launched," said Jozef Pojedinec, Bratislava Airport CEO.
Sorina Maria Ratz, Wizz Aiar, communication manager: "As is normal practice in the aviation industry, flight frequencies change according to travel seasons and route performance. Wizz Air constantly monitors the performance of the routes to allow for the most popular services to have the lowest possible fares. The Bratislava network has been optimized as the connection from Bratislava to Tuzla will be operated only in the summer season, according to the market requests, and Bratislava-Cluj connection will be discontinued from 6 November, as the route did not perform in line with our expectations. The extra capacity will be allocated to other routes in the upcoming period, as we are always assessing new opportunities that can best meet our customers' needs
Passengers with bookings affected by this change are being informed and automatically offered an alternative flight schedule, provided full refunds, or offered 120% of the original fare in airline reservation credit."
The total of 6 airlines offer its direct services from Bratislava Airport – Ryanair (16 routes), Wizz Air (Sofia, Skopje, Warsaw, Kyiv), Czech Airlines (Prague, Kosice), Air Cairo (Hurghada, Marsa Alam), Pobeda (Moscow) and flydubai (Dubai).
Find full list of Winter schedule here:
https://www.bts.aero/en/flights/flight-schedule-winter-2017-18/departures/
The list of scheduled flights to/from Bratislava during Winter Schedule
(29. 10. 2017 – 24. 3. 2018)
| | | | |
| --- | --- | --- | --- |
| Airline | Destination | Country | Frequency |
| Czech Airlines | Prague | Czech Republic | 8 x weekly |
| Czech Airlines | Kosice | Slovakia | 8 x weekly |
| flydubai | Dubai | United Arab Emirates | 3 x weekly |
| Pobeda | Moscow - Vnukovo | Russia | 3 x weekly |
| Wizz Air | Skopje | Macedonika | 4 x weekly |
| Wizz Air | Kyiv - Zuljany | Ukraine | 3 x weekly |
| Wizz Air | Warsaw | Poland | 3 x weekly |
| Wizz Air | Sofia | Bulgaria | 3 x weekly |
| Air Cairo | Hurghada | Egypt | 1 x weekly |
| Air Cairo | Marsa Alam | Egypt | 1 x weekly |
| Ryanair | Athens | Greece | 2 x weekly |
| Ryanair | Barcelona-Gerona | Spain | 2 x weekly |
| Ryanair | Berlin - Schönefeld | Germany | 4 x weekly |
| Ryanair | Birmingham | Great Britain | 3 x weekly |
| Ryanair | Brussels - Charleroi | Belgium | 3 x weekly |
| Ryanair | Dublin | Ireland | 7 x weekly |
| Ryanair | Edinburgh | Great Britain | 2 x weekly |
| Ryanair | Leeds – Bradford | Great Britain | 2 x weekly |
| Ryanair | London – Stansted | Great Britain | 12 x weekly |
| Ryanair | Madrid | Spain | 2 x weekly |
| Ryanair | Manchester | Great Britain | 3 x weekly |
| Ryanair | Milan - Bergamo | Italy | 4 x weekly |
| Ryanair | Nis | Serbia | 2 x weekly |
| Ryanair | Eilat - Ovda | Israel | 2 x weekly |
| Ryanair | Rome – Ciampino | Italy | 3 x weekly |
| Ryanair | Bologna | Italy | 2 x weekly |