From Bratislava Airport direct to 41 destinations in 22 countries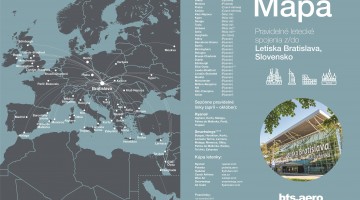 24. 03. 2017
–
Bratislava Airport introduces summer schedule 2017. For the passengers offers 44 direct routes to 41 destinations in 22 countries operated by 7 air carriers. The new timetable will be available from 26th March and will be valid until October 28. Novelties of this summer schedule are connections to Bosnia and Herzegovina, Sofia in Bulgaria, Warsaw and Cluj in Romania.
"Compared to last season, the number of connections has increased by 11," said Bratislava Airport CEO Ivan Trhlik. "Wizz Air offers this summer the new direct routes from Bratislava to Tuzla in Bosnia and Herzegovina and to Cluj-Napoca in Romania as well as direct route to Kyiv, Ukrajine. Starting from June 30th, Wizz launches new routes to Sofia and Warsaw direct from Bratislava Airport", said Trhlik.
"Compared to last season, the new direct routes are also operated to Nis, Serbia and Leeds-Bradford by Ryanair," added Trhlik.
Scheduled flights and charter scheduled flights are operated by 7 air carriers this summer direct from Bratislava Airport - flydubai (route to Dubai), Pobeda (route to Moscow), Czech Airlines (routes to Prague and Kosice), Wizz Air (6 routes), Ryanair (20 routes), Air Cairo (2 routes) and Travel Service/Smartwings (12 routes).
The following seasonal connections are returning: Corfu, Malaga, Palma de Mallorca, Paris-Beauvais, Trapani and Alghero – all of them operated by Ryanair.
Non-scheduled charter flights are operated by Travel Service, Bulgarian Air Charter, Corendon Airlines, Air Malta, Mistral Air, Air Cairo, Tunisair, Tailwind Airlines and Arkia-Israeli Airlines. Novelties in holiday flights which travel agencies will offer to customers are connections to Alicante and Menorca, Preveza (Greece) and Varna (Bulgaria).
Find full Bratislava Airport summer schedule here:
https://www.bts.aero/en/flights/flight-schedule-summer-2017/departures/
Bratislava Airport summer schedule
(valid from 26. 3. 2017 to 28. 10. 2017)
Belgium
Brussels-Charleroi (Ryanair), 4 x weekly
Bosnia and Herzegovina
Tuzla (Wizz Air), 2 x weekly (from june 3 x weekly)
Bulgaria
Bourgas (Smartwings), 8 x weekly
Sofia (Wizz Air), 4 x weekly
Cyprus
Larnaca (Smartwings), 3 x weekly
Czech republic
Prague (CSA), 6 x weekly (4 x weekly in july and august)
Egypt
Hurghada (Air Cairo), 2 x weekly
Marsa Alam (Air Cairo), 1 x weekly
France
Paris-Beauvais (Ryanair), 2 x weekly
Greece
Athens (Ryanair), 2 x weekly
Heraklion (Smartwings), 5 x weekly
Corfu (Ryanair), 1x weekly and (Smartwings), 2x weekly
Rhodos (Smartwings), 6 x weekly
Zakynthos (Smartwings), 3 x weekly
Ireland
Dublin (Ryanair), 7 x weekly
Izrael
Tel Aviv (Smartwings), 3 x weekly
Macedonia
Skopje (Wizz Air), 2 x weekly (od júla 4 x weekly)
Germany
Berlin (Ryanair), 4 x weekly
Poland
Warsaw (Wizz Air), 4 x weekly
Romania
Kluj-Napoca (Wizz Air), 2 x weekly
Russia
Moscow-Vnukovo (Pobeda), 4 x weekly
Serbia
Nis (Ryanair), 2 x weekly
Slovakia
Kosice (CSA), 6 x weekly (4 x weekly v júli a v auguste)
United Arab Emirates
Dubaj (flydubai), 3 x weekly
Spain
Barcelona-Gerona (Ryanair), 2 x weekly
(3 x weekly in august)
Madrid (Ryanair), 2 x weekly
Malaga (Ryanair), 2 x weekly and (Smartwings), 2 x weekly
Menorca (Smartwings), 1 x weekly
Palma de Mallorca (Ryanair), 2 x weekly and (Smartwings), 4 x weekly
Italy
Alghero (Ryanair), 2 x weekly
Lamezia Terme (Smartwings), 2 x weekly
Milan-Bergamo (Ryanair), 4 x weekly
Olbia (Smartwings), 3 x weekly
Rome-Ciampino (Ryanair), 3 x weekly
Trapani (Ryanair), 2 x weekly
Ukraine
Kyiv (Wizz Air), 2 x weekly (from august 4 x weekly)
Great Britain
Birmingham (Ryanair), 3 x weekly
Edinburgh (Ryanair), 2 x weekly,
(3 x weekly in july)
Manchester (Ryanair), 3 x weekly,
Leeds-Bradford (Ryanair), 2 x weekly
London-Stansted (Ryanair), 10 x weekly (in august 9 x weekly
Non scheduled charter air carriers and destinations in summer 2017
| | |
| --- | --- |
| Air Carrier | Destination |
| Air Cairo | Sharm El Sheikh |
| Air Malta | Malta |
| Arkia - Israeli Airlines | Tel Aviv |
| Bulgarian Air Charter | Bourgas |
| Corendon Airlines | Antalya |
| Tailwind Airlines | Antalya |
| Travel Service Slovensko | * |
| Tunisair | Djerba, Monastir |
* Travel Service Slovakia charter flights:
Summer charter destinations: Ajaccio, Almeria, Antalya, Boa Vista, Burgas, Cagliari, Catania, Corfu, Heraklion, Hurghada, Izmir, Kalamata, Karpathos, Kavala, Kos, Lamezia Terme, Las Palmas, Marsa Alam, Monastir, Olbia, Oujda, Palermo, Patras, Rodos, Sal, Salalah, Thessaloniki, Tirana, Zakyntos
New summer charter destinations 2017: Alicante, Barcelona – Gerona, Menorca, Preveza, Varna