Bratislava airport has introduced a new VIP terminal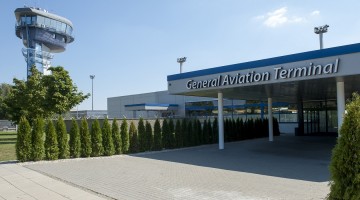 26. 08. 2016
–
BTS Airport introduced the new premises of the General Aviation Terminal (the so-called VIP terminal). The vacant arrival terminal C was refurbished to create the new General Aviation Terminal (GAT) and in particular to provide representative space in connection with the Slovak Republic's Presidency of the Council of the EU from July 2016.
State delegations, state officials and diplomats arriving in Slovakia in connection with Slovakia's presidency in the EU Council pass through the General Aviation Terminal. The terminal also services private flight clients and crews.
Reception services, a wide range of refreshments including alcoholic and non-alcoholic beverages, and free parking directly outside the terminal are available to all passengers within the terminal 24 hours a day. The terminal operates its own passport, customs and security controls, as well as equipment for screening oversized luggage. A free Wi-Fi connection is available throughout the terminal.
Entry to the terminal is subject to a fee of 49 € per departing passenger. The price includes unlimited stay in the terminal, full assistance during the check-in process, food and beverage, porter service (help with luggage), etc. Arriving passengers pass through the GAT free of charge with full access to the benefits listed above.
"The General Aviation Terminal has operated at the provisory premises in the airport's office building until recently. The need for providing appropriate representative space for VIP guests became urgent in connection with Slovakia's presidency of the EU Commission and the increased frequency of arrivals of important delegations. In addition, this pressing need came at an opportune moment as the Aviation Unit of the Ministry of the Interior of the Slovak Republic closed down their original premises at the airport," Ivan Trhlík, the General Director and the Chairman of the Board of Directors of M. R. Štefánik Airport in Bratislava explained.
"We have managed to renovate the premises with a floor space of 1000 m2 in 1.5 months for a third of the originally planned budget, approximately 300 thousand €. The original budget was between 800 and 900 thousand €," the General Director Ivan Trhlík pointed out.
"Starting from January 2017, we plan to make services of the General Aviation Terminal available also to passengers travelling on regular and charter flights. They will also be able to purchase the entry to the terminal including all special services and VIP service before their departure," Trhlík added.
More than 1000 passengers have passed through the building of the new VIP terminal since July this year and an equal number of guests have been attended to after their arrival. Well-known personalities, such as the British Prime Minister Theresa May, the Iron Maiden band, or the football player Martin Škrtel were among the arriving passengers and signed the airport's VIP guestbook.