22 destinations in 16 countries directly from Bratislava Airport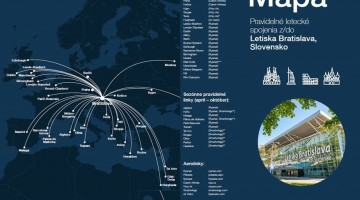 24. 10. 2016
–
Kyiv (Ukraine) by Wizz Air, Nis (Serbia) and Leeds-Bradford (UK) by Ryanair are the new direct routes from Bratislava Airport during winter flight schedule. As of October 30, the total of 22 destinations in 16 countries will be oparated by air carriers from Bratislava Airport, 5 routes more in comparison to W2015/16.
In comparison to winter flight schedule 2015/16, there are new routes to Skopje in Macedonia by Wizz Air, or Edinburgh and Manchester in Great Britain by Ryamaor, as these routes are being operated only from April 2016.
Wizz Air launches the new BTS – Kyiv route as of December 17th with twice weekly service, and the end of March 2017 Wizz Air will launch a new Tuzla (Bosnia) route. Ryanair will operate new route from Bratislava to Eilad-Ovda in Israel (as of October 30th), new Nis route (Serbia, as of October 31st) and new route to Leeds-Bradford (as of November 4th). All new routes will be operated 2 x weekly.
A total of 6 air carriers operates direct routes from Bratislava Airport: Ryanair, Pobeda, Wizz Air, flydubai, Czech Airlines and Air Cairo. Air Cairo operates 1 x weekly direct charter flight from BTS to Hurghada.
Flydubai increases flight frequencies from Bratislava to Dubai from 3 x weekly to 4 x weekly, offering comfortable route to Bangkok, Thailand with transfer in Dubai, as well as transfers to Colombo, Sri Lanka, Oman and Maldives etc.
Bratislava Airport Winter Flight Schedule
(30. 10. 2016 – 25. 3. 2017)
| | | | |
| --- | --- | --- | --- |
| Air Carrier | Destination | Country | Frequency |
| Czech Airlines | Prague | Czechia | 8 x weekly |
| Czech Airlines | Kosice | Slovakia | 8 x weekly |
| flydubai | Dubai | United Arab Emirates | 4 x weekly |
| Pobeda | Moscow - Vnukovo | Russia | 5 x weekly |
| Wizz Air | Skopje | Macedonia | 2 x weekly |
| Wizz Air | Kyiv - Zhuliany | Ukraine | 2 x weekly |
| Air Cairo | Hurghada | Egypt | 1 x weekly |
| Ryanair | Athens | Greece | 2 x weekly |
| Ryanair | Barcelona-Gerona | Spain | 2 x weekly |
| Ryanair | Berlin - Schönefeld | Germany | 4 x weekly |
| Ryanair | Birmingham | Great Britain | 3 x weekly |
| Ryanair | Brussels - Charleroi | Belgium | 3 x weekly |
| Ryanair | Dublin | Ireland | 7 x weekly |
| Ryanair | Edinburgh | Great Britain | 2 x weekly |
| Ryanair | Leeds – Bradford | Great Britain | 2 x weekly |
| Ryanair | London – Stansted | Great Britain | 10 x weekly |
| Ryanair | Madrid | Spain | 2 x weekly |
| Ryanair | Manchester | Great Britain | 3 x weekly |
| Ryanair | Milan - Bergamo | Italy | 4 x weekly |
| Ryanair | Nis | Serbia | 2 x weekly |
| Ryanair | Eilat - Ovda | Israel | 2 x weekly |
| Ryanair | Rome – Ciampino | Italy | 3 x weekly |